LibreOffice 4.4, the most beautiful LibreOffice ever

According to Document Foundation New release of LibreOffice 4.4, the most beautiful LibreOffice ever with a significant number of design and user experience improvements
The user interface has been improved in a significant way
Interoperability with OOXML file formats has been extended
Improved source code quality based on Coverity Scan analysis
Berlin, January 29, 2015 – The Document Foundation is pleased to announce LibreOffice 4.4, the ninth major release of the free office suite, with a significant number of design and user experience improvements.
"LibreOffice 4.4 has got a lot of UX and design love, and in my opinion is the most beautiful ever," says Jan "Kendy" Holesovsky, a member of the Membership Committee and the leader of the design team. "We have completed the dialog conversion, redesigned menu bars, context menus, toolbars, status bars and rulers to make them much more useful. The Sifr monochrome icon theme is extended and now the default on OS X. We also developed a new Color Selector, improved the Sidebar to integrate more smoothly with menus, and reworked many user interface details to follow today's UX trends."
LibreOffice 4.4 offers several significant improvements in other areas, too:
Support of OpenGL transitions in Windows, and improved implementation based on the new OpenGL framework;
Digital signing of PDF files during the export process;
Installation of free fonts Carlito and Caladea to replace proprietary Microsoft C-Fonts Calibri and Cambria, to get rid of font related issues while opening OOXML files;
Addition of several new default templates, designed by volunteers;
Visual editing of Impress master pages, to remove unwanted elements, adding or hiding a level to the outline numbering, and toggling bullets on or off;
Better Track Changes – with new buttons in the Track Changes toolbar – and AutoCorrect features in Writer;
Improved import filters for Microsoft Visio, Microsoft Publisher and AbiWord files, and Microsoft Works spreadsheets;
New import filters for Adobe Pagemaker, MacDraw, MacDraw II and RagTime for Mac;
Greatly expanded support for media capabilities on each platform.
A rather comprehensive description of all LibreOffice 4.4 new features, including developers' names, is available on the release notes page at the following address: https://wiki.documentfoundation.org/ReleaseNotes/4.4. In addition, a summary of the most significant development related details has been published by Michael Meeks: https://people.gnome.org/~michael/.
People interested in technical details can find change logs here: https://wiki.documentfoundation.org/Releases/4.4.0/Beta1 (fixed in Beta 1), https://wiki.documentfoundation.org/Releases/4.4.0/Beta2 (fixed in Beta 2), https://wiki.documentfoundation.org/Releases/4.4.0/RC1 (fixed in RC1), https://wiki.documentfoundation.org/Releases/4.4.0/RC2 (fixed in RC2) and https://wiki.documentfoundation.org/Releases/4.4.0/RC3 (fixed in RC3).
Download LibreOffice
LibreOffice 4.4 is immediately available for download from the following link: http://www.libreoffice.org/download/ or http://download.documentfoundation.org/libreoffice/stable/. LibreOffice users, free software advocates and community members can support The Document Foundation with a donation at http://donate.libreoffice.org.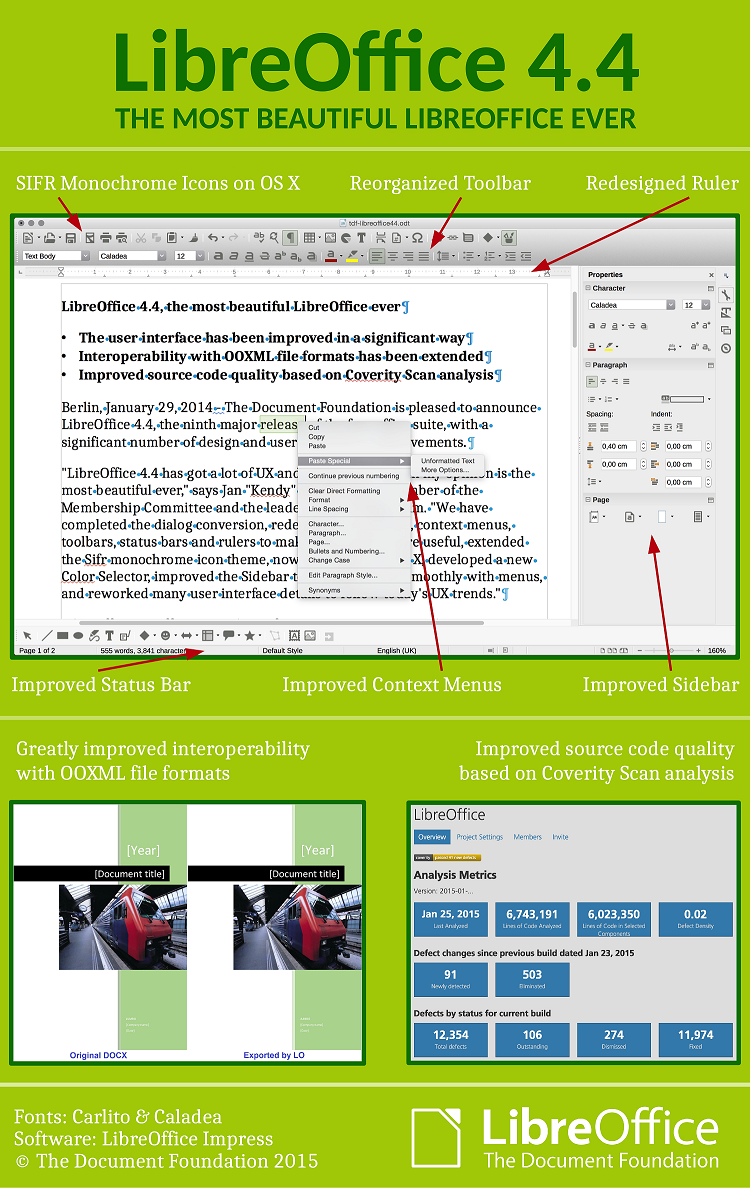 Source: http://blog.documentfoundation.org/2015/01/29/libreoffice-4-4-the-most-beautiful-libreoffice-ever/